Back: 4) Grabbit Slippers 5) Stuffed Grabbit
Front: 1) Hand-holder Keychain 2) Baby Grattle 3) Grabbeanie
1) Grabbit Hand-Holder Keychain
A Grabbit hug wherever you go! Elastic bands make him a bracelet. Hook attaches him
to jeans or backpack. Zippered compartment for money, ID, or secrets!

2) Baby "Grattle"
A cuddly plush baby rattle. Grabbit for a sweet beginning!

3) Grabbeanie
An irresistible Grabbit that is full of "beans"! Play, pose, collect. Mini 7" and Large 9".

4) Grabbit Slippers
May be the most adorable and comfortable "bunny" slippers ever!
Child's Small, Medium, Large. Adult Small and Adult Xtra-Large.

5) Stuffed Grabbit
A cuddly friend with his own toy-sized backpack, shopping bag, and T-shirt.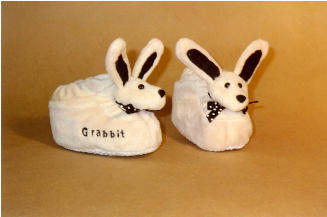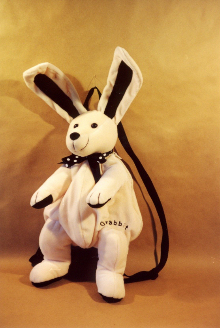 6) Grabbit Plush Backpack 7) Grabbit Baby Booties
6) Grabbit Plush-BackPack
This big Grabbit follows you everywhere! The plush backpack gives comforting companionship.
A lined interior pocket and adjustable straps.
7) Grabbit Baby Booties
Watch baby discover feet…. with Grabbit Baby Booties! And they actually stay on their little feet!

The rights to the name Grabbit and all Grabbit logos, design, artwork, slogans, products and concepts are owned by Lauren Joy Sand.
None may be used without written permission.